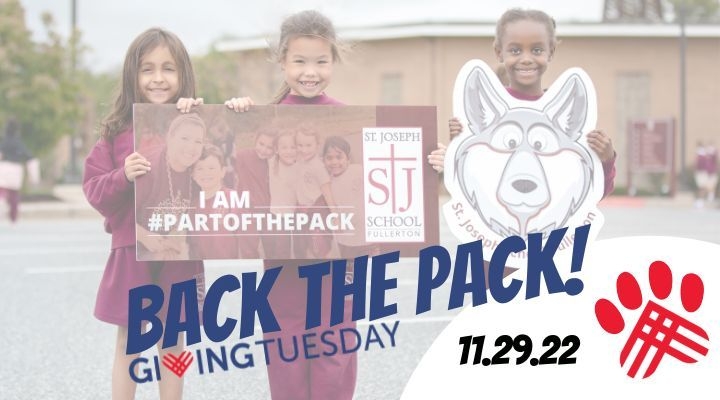 Back the Pack on GivingTuesday 11/29/22
Your willingness to back the pack raised nearly $10,000 for SJS-Fullerton this year! We're thankful to be surrounded and supported by the best community that makes great things happen for our school.
---
We invite you to celebrate GivingTuesday this year by making a gift to St. Joseph School-Fullerton. When you back the pack, you back a 150+ year tradition of academic excellence and spiritual growth.

You back our hard-working students and teachers dedicated to whole-child education.
You back a curriculum that builds a foundation for life-long learning and discipleship.
You back a positive, safe, and caring school environment.
You back extracurricular programs that build a child's character and encourages the pursuit of personal interests and service to others.
You back not just a school, but a home for all who enter our doors.
---
Ways to Support SJS-Fullerton
We make it easy for you to Back the Pack on GivingTuesday:
By phone - call us at (410) 256-8026, and we'll process your gift over the phone
Through the MySchoolWallet "PackPay" app
Prefer to mail your gift? Send a check with the contribution form to St. Joseph School-Fullerton at 8416 Belair Rd., Baltimore, MD 21236. Attn: Development Office
All students whose families donate will receive an out-of-uniform day.
---
Students' Stories
Every day, our students see and feel the benefits of your generosity. We will let them tell you why they love their school so much!
Caramia is in PreK, and she gives us two great reasons to back the pack!
Fourth graders Edwin and Andy, and fifth grader Amani have their own particular ideas about what makes St. Joe's so great!

Second grader Zoe thinks her school is just amazing!
Amani counts the reasons why she loves SJS-Fullerton!