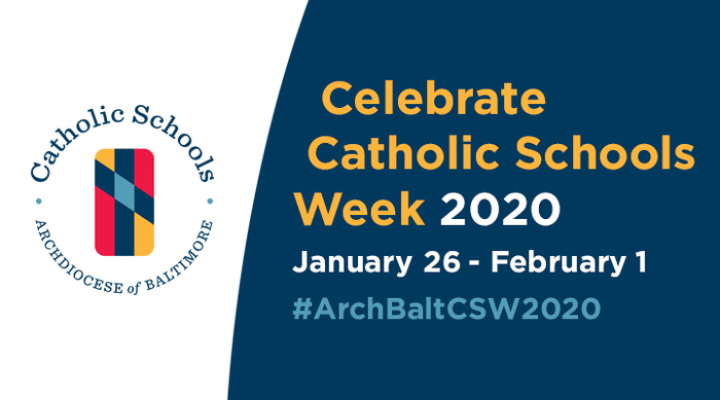 Catholic Schools Week 2020
St. Joseph School - Fullerton is celebrating Catholic Schools Week! Here are the exciting activities happening at our school:
Sunday, January 26: Our Parish

School families will present Offertory gifts this weekend and middle school students will read the first reading at masses.
Open House 1:00 to 3:00. The band plays in PC during Open House.
Teachers, administrators, staff, and parent representatives will be available
Monday, January 27: Our Faculty and Staff
Faculty and Staff Appreciation Day
Tuesday, January 28: Our Nation
Prayer, Pledge, and patriotic song during morning announcements
Students may wear patriotic accessories such as socks, ties, jewelry, hair accessories
All students must be in regular Tuesday uniforms
Special treat at lunch for students provided by HASA (peanut & tree nut free ice cream sandwich)
Wednesday, January 29: Our Community
Each grade will recognize and thank our community helpers i.e. police, fire dept., mail carrier,trash collectors, maintenance staff, etc.
Catholic Schools Week Mass 8:15 – All are welcome to attend
Catholic Challenge 1:30 in the Parish Center
Pizza Hot Lunch today!
Thursday, January 30: Our Families
HASA will provide hospitality for visitors in the Parish Center beginning at 7:45 a.m.
Parent Visitation Day:
Grades K to 8: 8:15 – 11:30 a.m.
Prek: 8:05 – 9:30 a.m. ONLY
Please note that visitors will be not be allowed in classrooms until times above.
Due to space limitations please limit visitors to school parents only.
Childcare should be arranged for younger siblings.
No Hot Lunch Today. Pack a lunch!
Friday, January 31: Our Students
Student Appreciation Day – Fun activities planned all morning for students
Students may wear HASA Spirit Wear or Phys Ed uniforms and sneakers
Noon dismissal