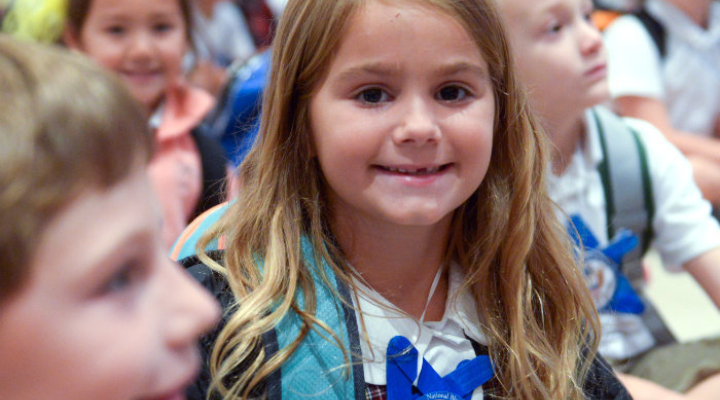 At a Glance
St. Joseph School - Fullerton is a PreK-4 through 8 grade Catholic School located in the Perry Hall area of Baltimore County. We welcome students of all faiths, socio-economic and demographic backgrounds. St. Joseph School - Fullerton provides a positive learning environment in which every child is challenged to develop their full potential: academically, spiritually, and morally.

---
By the Numbers
463 students in PreK-4 through 8th grade
100% of faculty with state teaching certification
$1 million in high school scholarship money awarded to our 2017 graduates
100% of our 8th grade graduates accepted to their first choice high school
15:1 student to faculty ratio
---
Achievements
| | |
| --- | --- |
| | A 2016 National Blue Ribbon School of Excellence |
| | Bronze status for our PBIS program. |
| | Our First Lego League Team was awarded the 1st place Core Values Award in a recent tournament at Boys' Latin School of Maryland. |
---
Positive School Environment
To foster a positive school environment where all students are educated in a safe and caring atmosphere, all Archdiocesan schools follow established procedures for prevention and intervention for bullying, harassment or intimidation.

Positive Behavioral Intervention & Supports (PBIS) has been implemented in every Archdiocesan elementary and high school to enhance academic and social behavior outcomes for all students.
St. Joseph School has achieved Bronze status for our PBIS program. Teachers use reward systems within their own classrooms in conjunction with a school-wide reward system to encourage positive behavior. The students understand this school-wide program as Bucket Filling (PreK-4 - 5th grade) and the Fish Philosophy (6-8 grade). Students receive "bucket" and "fish" slips when following school rules/expectations and are acknowledged.
---
Accreditation
AdvancED
All Archdiocesan high schools and elementary schools are accredited as a system through AdvancED. Every five years, the Department of Catholic Schools completes a system-wide accreditation review, which culminates with a visit by an AdvancED External Review Team. Each school is evaluated based on the National Standards and Benchmarks for Effective Catholic Elementary and Secondary Schools. These standards and benchmarks can be found at http://www.catholicschoolstandards.org.
AdvancED is a performance-based model that...

Adopts a balanced, systemic approach
Employs diagnostic tools
Uses standards, stakeholder feedback, student performance
Focuses on evaluating performance
---
Governance Model
St. Joseph School is an Archdiocesan Collaborative School (ACS), which is a model of shared governance developed by the Archdiocese of Baltimore. The ACS utilizes a shared governance model that fosters unity through the collaboration of stakeholders in support of Catholic schools. The model allows decisions regarding day-to-day school operations to be made at the local level, while individual schools and school administrators are supported centrally from the Department of Catholic Schools and the Catholic Center's Central Services in areas such as academics, finance, development, enrollment management and marketing.