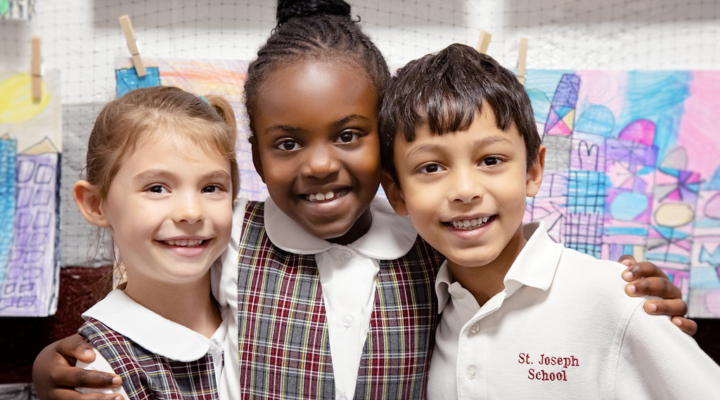 Admissions
Thank you for your interest in St. Joseph School - Fullerton!
Our school community continues with the St. Joseph School - Fullerton mission to provide a positive learning environment in which every child is challenged to develop their full potential: academically, spiritually, and morally.
We invite you to contact our Admissions Team at admissions@stjoeschool.org with any questions or complete the inquiry form below to learn more or to schedule a tour. The "4 Simple Steps" and Key Dates below will guide you in what to do to become part of the pack!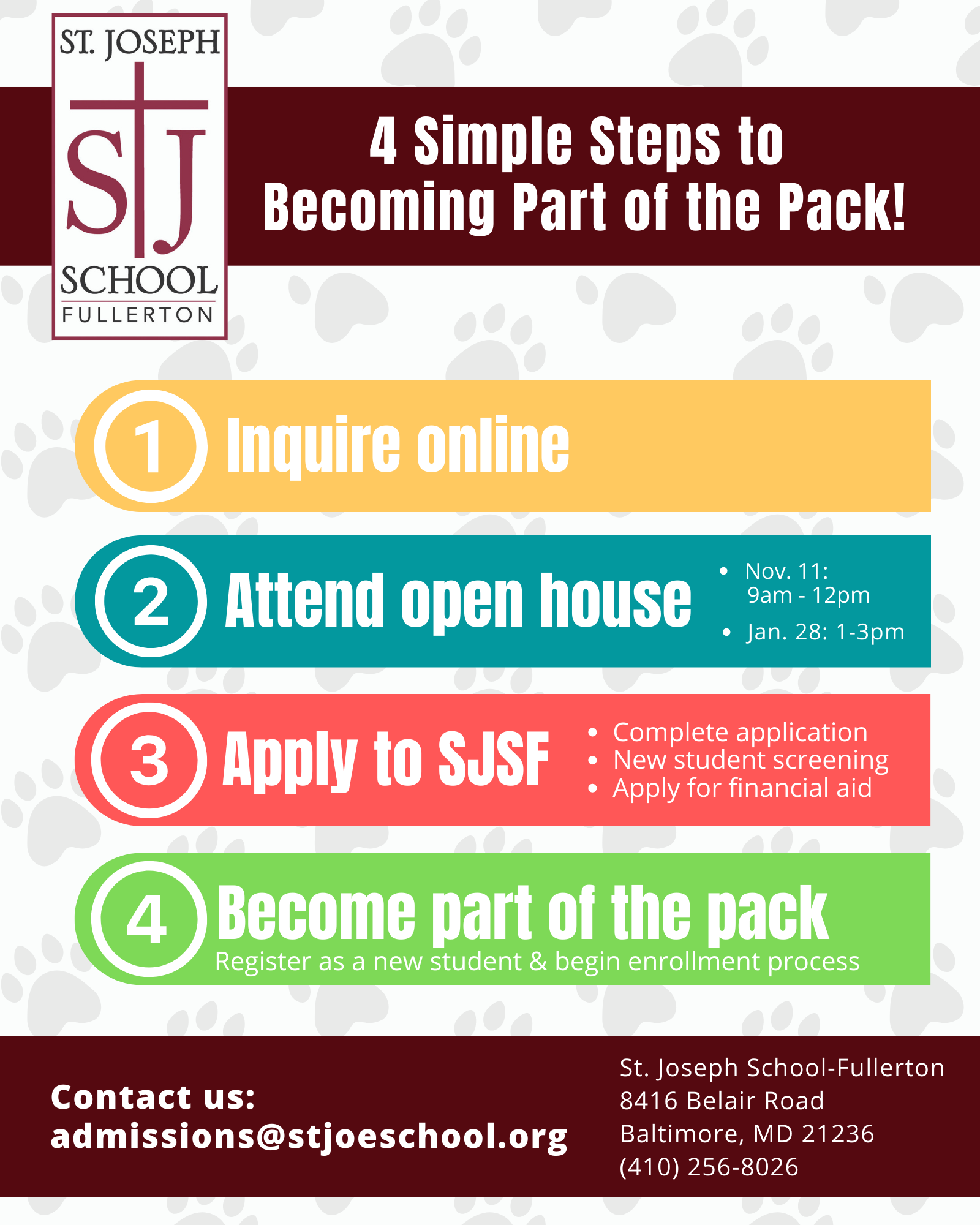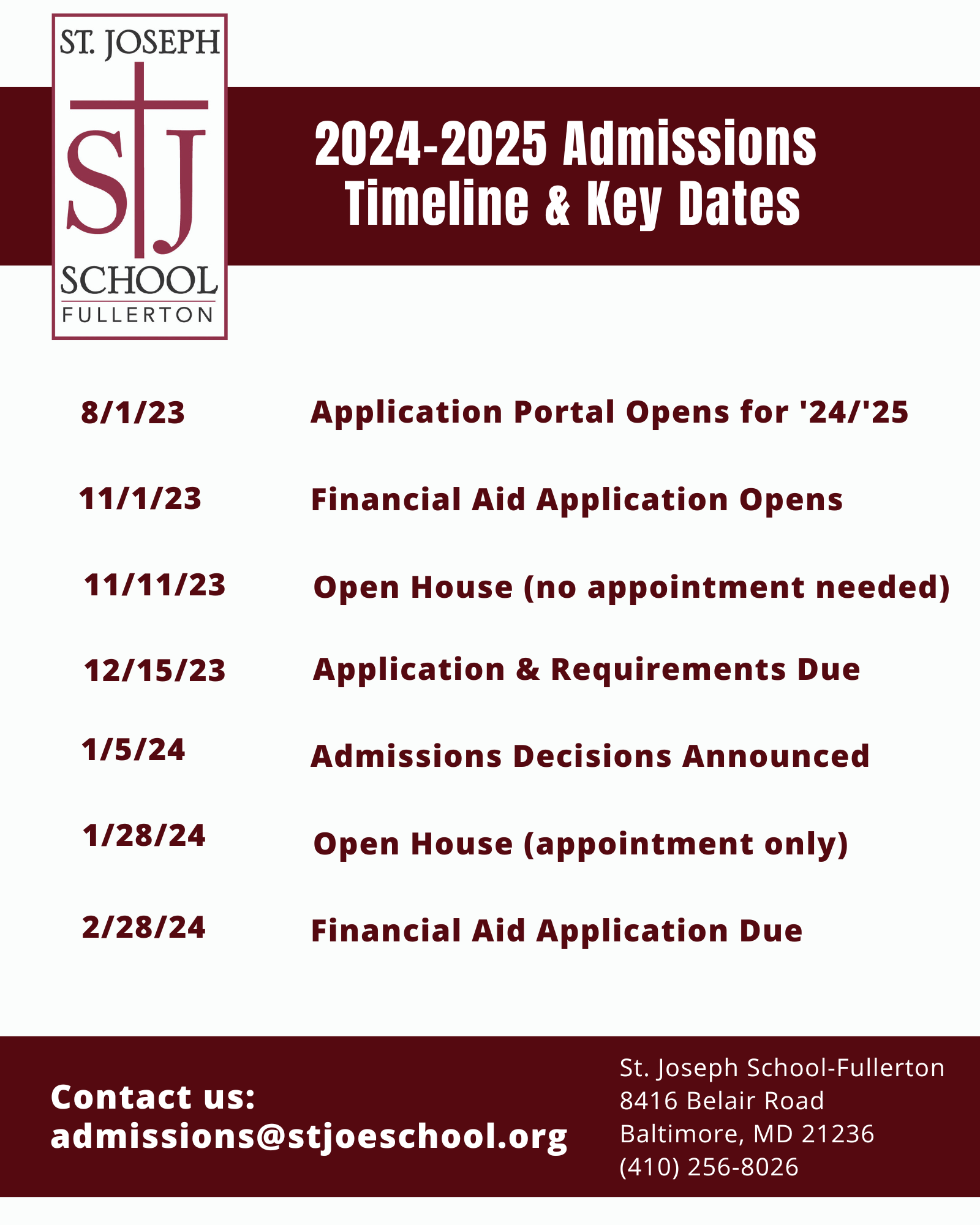 ---
Preschool (PreK4) and Kindergarten Requirements
Students entering into preschool must be four (4) years of age prior to September 1 of the current school year. There are two full-day Pre-Kindergarten 4 programs at St. Joseph School - Fullerton. Our program meets five days a week and begins at 8:00 a.m. and ends at 2:35 p.m.
Students entering Kindergarten must be five (5) years of age prior to September 1st of the current year. St. Joseph School - Fullerton tests all Kindergarten applicants using the Brigance Early Childhood Screening prior to admittance into the Kindergarten program.

---
Priority of Admissions for Prospective Students
Admission to St. Joseph School is based on availability, previous school records, and completion of placement testing in math and reading held in the Fall. Families must be officially registered at St. Joseph Fullerton Church to receive priority over other applicants as per School Board policy which is defined below:
Current students who are re-registering
Siblings of current SJS-Fullerton students
Legacy students (children of Alumni)
Children of active registered parishioners of St. Joseph Fullerton Parish
Children of registered parishioners of other Catholic parishes within the Archdiocese of Baltimore
Children of non-active Catholics and those of other faith backgrounds
To learn more about St. Joseph School - Fullerton or to schedule a tour, please complete the inquiry form.
---
A Brief History of St. Joseph School - Fullerton
St. Joseph School - Fullerton was founded in 1877 by the Sisters of St. Francis whose mission and vision continue to be embodied by a dedicated faculty who make St. Joseph School - Fullerton more than just a school, but a home for all. Our teachers are hard-working and are continuously reviewing data as well as seeking ways to include creativity, generate participation, and promote active and engaged learners. This analysis translates into lessons and activities that are designed for each student to reach their full potential.
St. Joseph School - Fullerton was named a 2016 National Blue Ribbon School of Excellence. We are very proud of our academic success here, and would love to share it with you! Learn more about our admissions process.