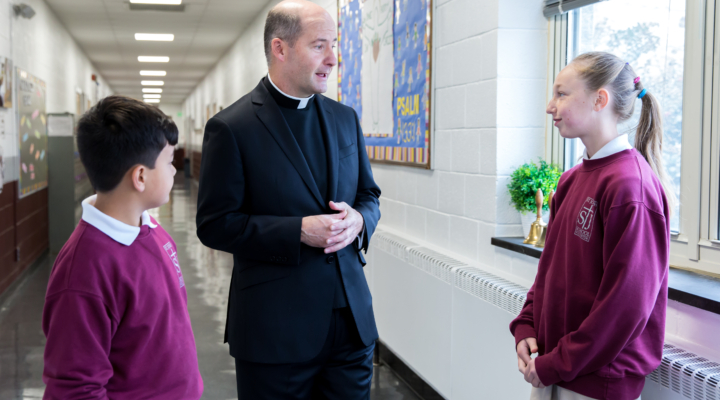 Inquire Today
Thank you for your interest in St. Joseph School-Fullerton. We would love to share more information about our school and our academic and extracurricular programs. Please complete the Inquiry Form below to learn more about St. Joseph School-Fullerton.

Experience St. Joseph School-Fullerton
Open House:
St. Joseph School-Fullerton typically hosts a few open houses during the school year. If you cannot attend an open house, we invite you to complete the Online Inquiry Form to schedule a private tour. Private tours will begin in mid-September.
A typical open house includes a tour through the school building, during which your tour guide will share information about St. Joseph School's curriculum and extracurricular activities. You will meet our administration, current parents, and faculty. Your tour guide will bring you to several classrooms, including the science lab and the multimedia center. Most often, the tour guide is a current faculty member or parent who can provide a first-hand perspective about our school. Prospective students are encouraged to attend an open house with their families.
---
Private Tours:

Private tours are available during the school day from 8:30 a.m. until 2:30 p.m. We will be happy to arrange a convenient time for you to visit SJS-Fullerton. To schedule a private tour, please complete the inquiry form or contact our Admissions office at 410-256-8026 or admissions@stjoeschool.org.
---
Admissions Process Frequently Asked Questions
When is the best time to apply for the upcoming school year?
The best time to apply for the upcoming school year is August through December. Please see the How to Apply section for specific deadlines regarding admission. After the initial application deadline, we will accept applications for openings in a specific grade. Please contact Admissions before applying to make sure there is an opening in a specific grade.
How do I begin the admissions process?
We want to make the application process as easy as possible for families. For more information regarding the steps and documentation needed, please visit our How to Apply section.
What is the benefit of attending an open house?
Attending an open house gives prospective students and their families an inside look at St. Joseph School-Fullerton. You will learn about our academic programs and extracurricular activities and have the opportunity to meet the Administration, teachers, and staff.

Can prospective students attend an open house or a private tour?
Yes, we would love for prospective students to attend an open house or join us for a private tour! Both are great ways to experience St. Joseph School - Fullerton. Email admissions@stjoeschool.org to schedule.

Is there a waitlist?
Our waitlists do not roll over from year to year. Beginning August 1, all first-time waitlist applicants can roll their applications to the next school year at no charge. All other waitlisted applicants must reapply if they are still interested in SJS-Fullerton. The number of openings per grade is unknown until our current students reapply in early November. Typically, there is a waitlist in every grade from PreK to 8th. While there is no guarantee of an opening, if you are considering a Catholic education at St. Joseph School-Fullerton, you may want to consider enrolling your child before 4th grade. Inquire today!

Where do most students attend high school?
A majority of our students will go on to attend a Catholic high school. Our 2023 graduating 8th-grade students received more than $1.4 million in merit scholarships to area Catholic high schools. Please visit our Student Performance page for a detailed list of high schools.