Service
The Year of Service
The Archdiocese of Baltimore has declared the 2018-2019 school year the "Year of Service". While service has always been a focal point of Catholic education, St. Joseph School - Fullerton Assistant Principal, Mrs. Christina Ashby, explains, "There will be a designated focus each month of the school year where students, teachers, and faculty come together to help our community." The monthly service theme will kick off each month with a school-wide assembly. Students will not only learn about the designated service project, but will also learn the meaningful lesson of why we are helping those in need. Some of the upcoming service projects include: making box lunches for the homeless, visiting the elderly in nursing homes, and collecting canned goods for those in need.
Last spring, students throughout the Archdiocese of Baltimore participated in a logo design contest to help create the Year of Service logo. Will Pipkin, seventh grader at St. Joseph School - Fullerton, was selected as the winner of the logo contest. His Year of Service logo design was digitized by the Archdiocese of Baltimore, it will be used throughout the whole Archdiocese to help promote the Year of Service. Will explains the inspiration for his artwork, "When I thought about this year's logo, the first thing that came to mind was the Earth because when you give service, you are giving back to the world and other people. The children represent each of us in God's image both young and old. Together as one, we can change the world. The cross is at the heart of us all, and when we serve others we are serving God."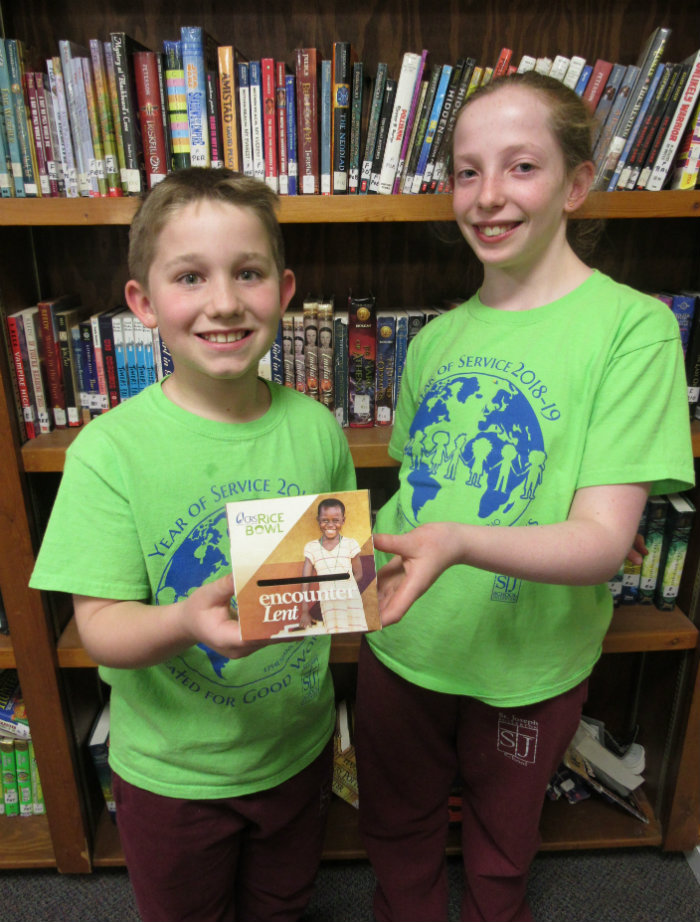 Services Projects - 2018-2019
October - Pink Dress Down Days to support the Johns Hopkins Cancer Research Institute.
November - Canned Food Drive to support St. Clements Food Pantry.
December - Writing Christmas Cards to Nursing Home Residents; Faculty made Box's of Joy for needy children.
January - Preparing and making bagged lunches for Homeless Shelter.
February - The American Heart Association Kids Heart Challenge
March - Read Across America and collecting books for Maryland Book Bank.
April - Catholic Relief Services Rice Bowls
May - Red Nose Day