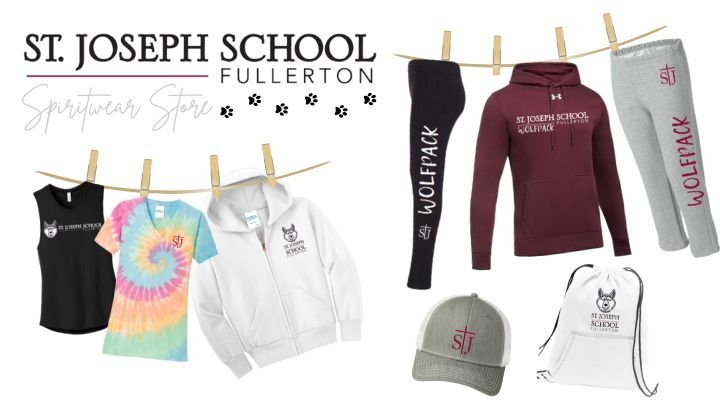 Spiritwear Store
We are so excited to offer a selection of St. Joseph School - Fullerton spiritwear to our families and friends. The store is open year-round. Show off your Wolfpack Spirit!

This is the school's spiritwear store. The St. Joseph Athletic Association (SJAA) also hosts its own separate store. Please follow SJAA on social media for more information.
Spiritwear Days
Once a month throughout the year, we host spiritwear days. Students are welcome to wear items purchased from the store. Please note the guidelines below, as not all items are permitted to be worn on a spiritwear day.
Spiritwear Day Guidelines:
Spiritwear is worn with gym or regular uniform bottoms or spiritwear bottoms. Students wishing not to wear spiritwear may wear their school gym uniforms on spiritwear days.
Only tops and bottoms purchased from the School or SJAA Spiritwear Stores are permitted on spiritwear days.
Spiritwear socks are allowed.
Appropriate shoes required (no Crocs or flip flops).
The following apparel is NOT permitted on Spiritwear Days: tank tops, pajama bottoms, SJAA sports uniforms, hats, and any item with the old jaguar mascot.
All out-of-uniform rules apply per the school handbook.