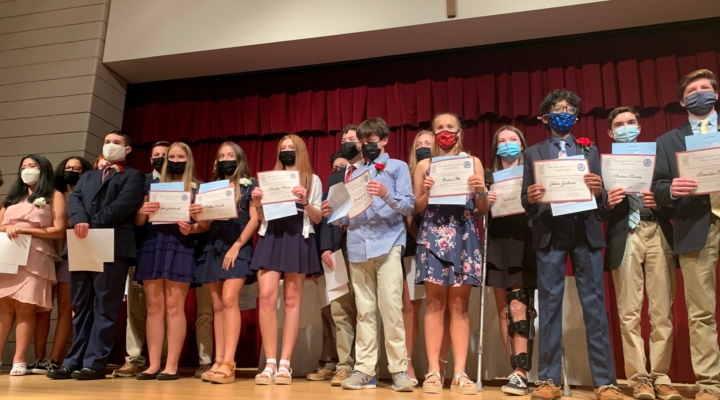 Celebrating Principal's Scholars
On October 7, 2021, we held the Principal's Scholars Dinner and recognized current 7th and 8th graders and recent SJS graduates (now freshmen at their respective high schools) for achieving honor roll during all three trimesters in the '20-21 school year. Congratulations! You all should be very proud of yourselves... we certainly are!
7th Grade: Valerio A., Alessandra A., Joshua A., Tyler B., Cole C., Angelina F., Camryn F., Jacob G., Andrew H., Grant H., Gabriella I., Dominic J., Alexandra K., Alexander L., Jason M., Reid O., Jazlyn P., Ryan P., Rafael R., Sebastian R., Shannon S., Isabelle S., Andrei T., Lauren T., Morgan V., Avery W.
8th Grade: Krish A., Victoria A., Nora B., Alexis B., Morgan B., Evangeline C., Evangelia C., John (Jack) C., Cassidy D., Mason D., Michael (Finn) E., Zachary E., Pearce E., Abigail E., Kendall F., Alesandra G., Grace H., Max H., Megan J., Cooper N., Darshan P., Raadha P., Eva P., Margaret R., Ian R., Wendy R., Jessica S., Penelope S., Matthew S., Lauren T., Harry V., Andrew W.
9th Grade: David A., Foladara A., Elaina A., Abigail A., Maha A., Arianna B., Ashley B., Connor B., Tyler B., Collin B., Claire C., Joseph C. Mackenzie D., Anthony D., Caitlin D., Christina E., Ryan F., James G., Kaitlin G., Emily H., Kelley H., Sophie L., Cheyann L., Kacie M., Madelyn M., Andrew M., Shravan P., Michele P., Nicholas P., Rachel R., Dalton S., Brendan S., Michael S., Sophia V., Mitch V., Johan Z.