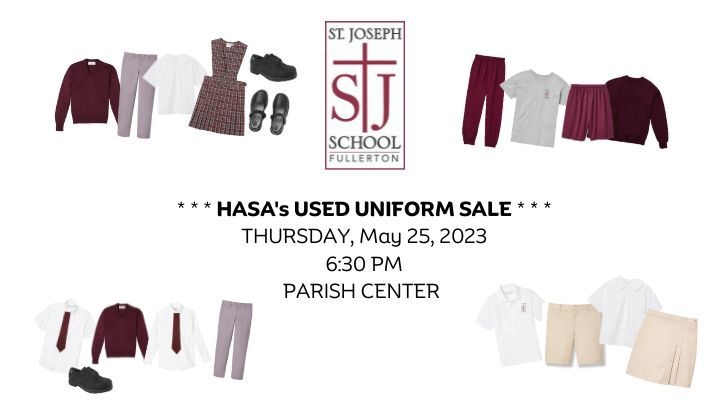 Used Uniform Sale is May 25th
Shop the Sale on Thursday, May 25, 2023 at 6:30pm in the Parish Center
Cash or checks only will be accepted the night of the sale. Checks should be made payable to St. Joseph's HASA.
If you're selling uniforms, please read the following instructions:
Used uniforms may be brought to the Parish Center Thursday morning (May 25) between 8:00 a.m. and 10:00 a.m.
All items must be tagged with a 3X5 index card and safety pin.

PLEASE DO NOT USE STRAIGHT PINS, PAPER CLIPS, OR STICKY LABELS.
PLEASE DO NOT CUT THE INDEX CARD IN HALF.

Information on the tag MUST include the following:

Child's name/Homeroom
Size of item
Price of item

Blouses, jumpers, skirts, and middle school boys' shirts must be on hangers. All other items should be folded.
All items must be in good condition to be sold. Any clothing found in poor condition will not be put out for sale. These include items that are stained, yellowed from perspiration, torn, missing buttons, have an odor, etc.
If a card is not attached to each piece of clothing, the clothing will not be put out for sale. Sticky labels fall off and get stuck to other pieces of clothing. Paper clips may cause holes in the clothing.
Suggested Prices: Blouses $5, Skirts $10, Jumpers $15, Pants $10, Skorts $8, Shirts $7, Shorts $6, Gym Sweats $8-$10, Tee Shirts $4.
HASA will take $1 per item sold.
Money and unsold uniforms will be returned on Friday, May 26, 2023. Students not in school on May 26th may pick up their money and/or clothing in the office after 9:00 a.m. during regular school hours. Any clothing that is not been picked up by June 8, 2023 will be donated to a charity and the money to the Home and School Association.

Thank you in advance for your cooperation. We look forward to a successful sale! If you have any questions or concerns, please contact Theresa Davidson at 443-520-6288.