Scholastic Book Fair
Thank you all who shopped this year's Book Fair supporting SJS-Fullerton! We'll see you next year!
November 7 - November 11, 2022
Parish Center Rooms 2/3 (Lower Level)
Shop the online fair through November 17!
The Scholastic Book Fair returns to SJS-Fullerton! Choosing their books empowers your children and inspires them to become BOLDER, PROUDER, and STRONGER readers. Plus, every book purchased earns rewards for our school.
(Click the image to preview some of the available titles)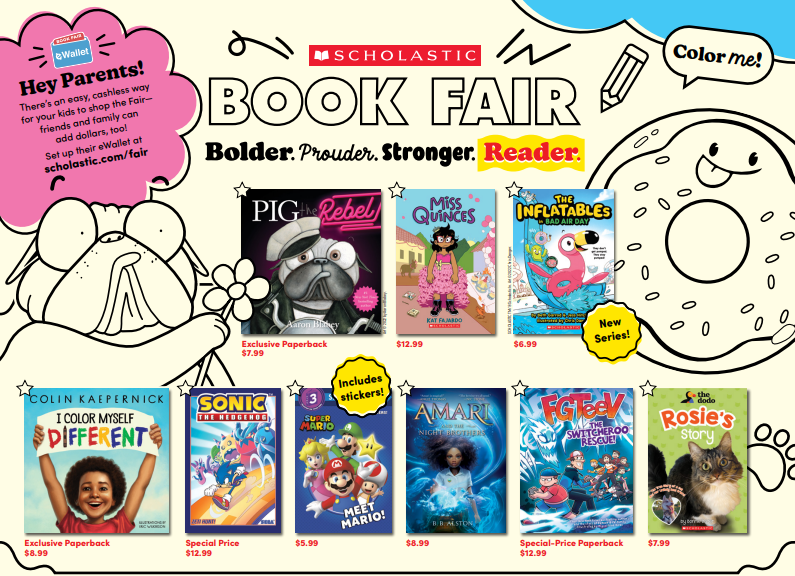 Shopping Schedule:
Students will have designated times to shop during the school day Monday through Friday.
On Tuesday and Wednesday, parents are welcome to shop after school from 3:00-4:00pm.
Bring the whole family to shop together during Family Nights! Wednesday and Thursday from 4:30-7:00pm.
Students will first visit the fair Monday, Tuesday, or Wednesday during their ELA or Reading classes. They will be able to return on Thursday and Friday during ELA or Reading periods if they have an eWallet or money with them. The fair is open to students during lunch & recess all week.
Monday: 2nd Grade, 3rd Grade w/Burke, 4th Grade, 5th Grade
Tuesday: Kindergarten, 1st Grade, 3rd Grade w/Pappas & Harman, 6th Grade, 8th Grade
Wednesday: PreK, 7th Grade
---
Ways to Pay:
The easiest and most convenient way for your child to shop is with an eWallet! Create an account, add funds, and share with family & friends who can contribute funds, too.
Once set up, an eWallet barcode is assigned to your child and scanned during checkout. All eWallets are automatically linked to the checkout registers so we'll simply pull up your child's eWallet by his or her name.
Any remaining money in your eWallet account can be used to purchase items online. Once you're logged into your account, you will see the eWallet balance.
Cash, check, and credit cards are also accepted.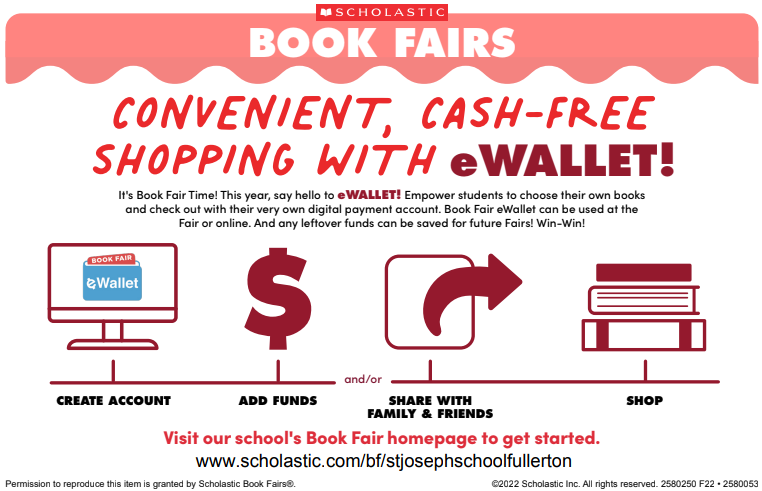 ---